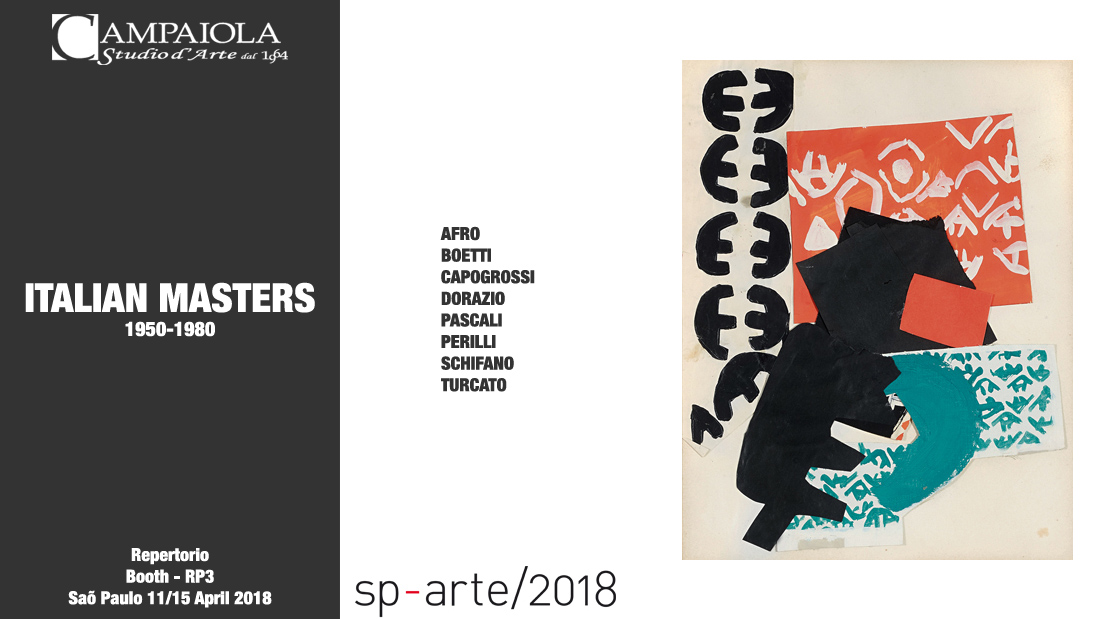 07 Mar

ITALIAN MASTERS (1950-1980)

SP Arte

Saõ Paulo 11/15 April 2018

Repertorio – Booth RP 3

ITALIAN MASTERS (1950-1980)

Afro-Boetti-Capogrossi-Dorazio-Pascali-Perilli-Schifano-Turcato

The series of works presented by Studio d'Arte Campaiola in its second participation in Repertório, allows identifying a few trends in Italian art pertaining to the second half of the 20th century. Works by Afro Basaldella and Mario Schifano, for example, stem from pictorial investigations of an informal scope, where colors and shapes maintain almost absolute freedom, and the artist's gesture blossoms and remains frequently visible in the finished work.

Another set of works, composed of paintings my Piero Dorazio, Achille Perilli and Giulio Turcato, point to a seminal experience of the group known as Forma 1, from the magazine title published by them in 1947, which contributed to the debate between the advocates of abstraction and those of figuration, which in Italy, different from what happened in Brazil, focused on the political pertinence of each trend.

The paintings from the series Superfici, by Giuseppe Capogrossi, on the other hand, are examples of extremely personal work, characterized by the presence of "segno", a sign that the artist incessantly repeated, always in surprising combinations, from the 1950s until his death in 1972.

Lastly, the mixed techniques used by Alighiero Boetti and Pino Pascali demonstrate the desire of artists closest to the conceptual trends of Arte Povera of maintaining a connection with the powerful classic Italian tradition, and at the same time the need to experiment unexplored paths, providing an authentic renewal in the national scene.